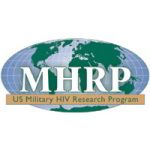 Early in the HIV pandemic, the U.S. military recognized HIV as a threat to the health and safety of U.S. and allied troops. In 1985, Congress mandated the U.S. Military Research Program (MHRP). HIV was subsequently recognized as a National Security priority in the President's National security Strategies of 2002, 2006 and 2010, further justifying the need for this U.S. military clinical research intervention. Twenty seven years after its initiation, the MHRP ranks as one of the most important HIV research programs in the world.
The MHRP plays a key role in the U.S.'s efforts to combat HIV, working in partnership with NIAID, NIH and other federal programs and NGOs. The greatest chance for the development of a safe and effective HIV vaccine will likely be through the combined efforts of the MHRP, NIAID, private biotechnology and pharmaceutical industries, NGOs and the federal government.
Since its formation in 1985, the MHRP has been on the forefront of HIV research. Early in the HIV epidemic, MHRP identified that HIV could be transmitted heterosexually, which until that time remained a controversial issue, and developed the initial disease staging system, which facilitated the understanding of the natural history of HIV infection and evaluation of clinical responses to antiretroviral therapy regimens. The MHRP was also the first U.S. funded international HIV program to successfully integrate care and treatment with clinical research.
Under the leadership of Director Col. Nelson Michael, MD, PhD, the MHRP has further progressed in scope and diversity, contributing not only to vaccine development but also expanding the general knowledge of HIV therapeutics and acute infections. In addition to serving as Director of the MHRP, Col. Michael also serves on the Presidential Commission for the Study of Bioethical Issues, Vaccine Research Center Scientific Advisory Working Group (VRC, NIAID), Office of AIDS Research Advisory Committee (OAR, NIH), AIDS Research Advisory Committee (NIAID), the AIDS Vaccine Research Working Group (DAIDS, NIAID), Center for HIV/AIDS Vaccine Immunology Scientific Advisory Board (CHAVI), Office of the Global AIDS Coordinator Scientific Steering Committee (OGAC), Scientific Committee of the Global HIV/AIDS Vaccine Enterprise and PEPFAR Scientific Advisory Board.
Best known for the RV144 study (often referred to as "the Thai AIDS vaccine trial"), the MHRP led a clinical trial on the first, and thus far only, HIV vaccine to show partial effectiveness. Although at first controversial due to differing interruptions of the data, RV144 remains the most important and successful HIV vaccine to date, showing 31.2% effectiveness in preventing HIV. The vaccine, a combination of ALVAC HIV vaccine (the prime) and AIDSVAX® B/E vaccine (the boost), showed a strong initial protective effect of up to 12 months, after which the protective benefit declined dramatically. A smaller clinical trial in Thailand will investigate if the early, high protective immune response could mean an additional boost, or other augmentation of immune response, would improve efficacy of the vaccine. Two papers published in the last year in the New England Journal of Medicine and the Lancet support the initial results reported back in 2009, address the immune responses that correlated with decreased risk of infection, and analyze breakthrough infections. Taken together, these studies support and build upon RV144, yielding results to guide efforts to research and develop an effective vaccine.
The MHRP is also studying the PENNVAX G vaccine (RV262). PENNVAX G is a combination DNA prime/MVA vector boost vaccine regimen that was developed to protect against diverse subtypes of HIV-1 prevalent in North America, Europe, Africa and South America. A phase I study at sites in the U.S. and East Africa are underway. The PENNVAX vaccines, which include PENNVAX-B being studied as a therapeutic vaccine for people living with HIV, utilize electroporation to deliver the vaccine more effectively into cells, possibly overcoming a challenging obstacle of DNA based vaccines. Electroporation involves the application of controlled, millisecond electrical pulses to cells to enhance their uptake of the vaccine. In the RV262 electroporation will be measured against a needle free injection system called the Bioijector 2000. The MVA vector boost, a recombinant modified vaccinia Ankara, has been engineered to produce and display HIV antigens increasing the immune response. The combination DNA prime MVA boost vaccines have the potential to amplify the immune response in both preclinical animal models and human clinical trials.
Another collaboration with Harvard University has identified another vaccine candidate that has shown promising results in monkey studies not only in prevention of acquisition, but also viral load control. They expect this novel vaccine to enter clinical trials in 2014.
The MHRP is an AIDS Clinical Trials Site that has participated in ACTG studies in Kenya. One study is the OCTANE study (Optimal Combination Therapy After Nevirapine Exposure). This study provided data to guide and implement PMTCT (Preventing Mother to Child Transmission) policy and practices throughout Sub-Saharan Africa. Another study, STRIDE, evaluates when best to start ARVs in people co-infected with HIV and TB. The results of this study could assist in guiding policy for people living with both HIV and TB in Africa.

The U.S. Military HIV Research Program (MHRP) is currently conducting the following studies:
RV158: A Phase I Double-Blind, Randomized, Dose Escalating, Placebo Controlled Study of Safety and Immunogenicity of WRAIR/NIH Live Recombinant MVA-CMDR Administered by Intramuscular or Intradermal Route in HIV Uninfected Adults

RV186: Nucleic Acid Assays for Diagnosis of HIV Infection in Anticipation of an HIV Vaccine,

Sample Collection for Sensitivity and Specificity Assay

RV186: Optimal Combination Therapy After Nevirapine Exposure (OCTANE, w/ ACTG)

RV 242: Genetic Subtypes and Antiretrovial Drug Resistance of HIV-1 in Romania

RV262: A Phase I Study of the Safety and Immunogenicity of PENNVAX-G DNA Administered by Intramuscular Bioinjector 2000 of Cellectra Intramuscular Electroporation Device Followed by MVA-CMDR Boost in Healthy, HIV Uninfected Adults
In addition to conducting HIV research both with military personal and the general public, the MHRP provides treatment and care through PEPFAR with sites in four countries in Africa, Kenya, Tanzania, Nigeria and Uganda. The program is centered at Walter Reed Army Institute of Research (WRAIR) in Rockville, Maryland and partners with clinics throughout Africa and in Thailand.
Services offered at these PEPFAR-supported sites include ARV provision, ARV prophylaxis for pregnant women, prevention services, male circumcision, TB/HIV care and programs that help support kids affected by HIV such as education, medical services, nutrition services and training of care givers.
The MHRP is in a unique position to facilitate innovative research by initiating support and funding from a range of sources including the U.S. government, foreign governments, non-government organizations and private business. In an AIDS.gov blog1, Colonel Nelson Michael, MD, PhD, Director of the MHRP, states in regard to RV144, "This progress in vaccine science was enabled by strong collaborative leadership from the WRAIR (Walter Reed Army Institute of Research) and the U.S. National Institutes of Allergy and Infectious Diseases (NIAID), along with partners from the Thai and U.S. governments, private companies, non-profit organizations and more than 16,000 volunteers. By leveraging resources and capabilities, we have been able to achieve together what no one organization or country could do alone." In fact, several completed and ongoing clinical trials are performed in collaboration with the MHRP even though the program is not identified as an official sponsor.
The MHRP, under the leadership of Col. Michael and in collaboration with other federal agencies both domestic and international, as well as private industry, is critical to the advancement of new HIV treatment approaches and vaccine development.